Payroll & Time Attendance
CompactSoft Payroll Add-on Microsoft Dynamics AX
Maintaining an accurate payroll system is a major challenge for all software solutions. The need for quick & accurate methods to calculate payroll is always the primary need for any organization.
CompactSoft has generated an enormous knowledge & experience through years of experience in developing payroll solutions. Since 1984 CompactSoft was able to cover all aspects of payroll needs in any organizations.
The Egyptian market requires some special features for taxes & insurance calculation, CompactSoft Payroll on Dynamics AX is designed to handle all Egyptian legal requirements in an easy & efficient methods.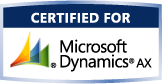 Solution Description
Below are some key features of Payroll & Time Attendance On Dynamics AX:
Payroll
- User defined payroll periods
- User defined tax & payroll calculation per period
- Grouping of salary terms to ease filtering & reporting
- User defined equations for salary calculations
- Easy definition of employee shifts
- Full penalty handling for administrative & attendance purposes
- Automatic calculation of penalty deduction in pay slip
- Easy linking of salary terms to employees
- Full handling of employee loans
- Define multiple missions types
- Define multiple excuse types
- Define rules for absence calculation on employee or department basis
- Auto creation of payroll due voucher & quick posting to GL
- Auto creation of payroll payment voucher & quick posting to GL
Time Attendance
- Define attendance rules in easy methods
- Easy import of attendance data from attendance devices
- Handles all possible late/overtime cases
For more information about CompactSoft Solution in Microsoft PinPoint, please click Microsoft